Our annual library play-through
Dec. 31, 2016
As 2016 comes to a close, we're preparing to look back on our accumulated library by playing one short track from every single album in alphabetical order. This will start at approximately 6pm Central Time on Sunday, January 1. As we go through the list, producer Brent Johnson will be popping in every now and then to talk a little about some of the albums and running the show at Organlive. We expect this to take close to, if not more than, 80 hours. Tune in and join us for the trip through our library!
Christmas is coming!
Dec. 1, 2016
Starting today, it's time for the much requested organ music of Christmas and Advent! Tracks that usually go away for much of the year will now show up in your searches, and at the bottom of our Album List page, you'll see the albums that we keep in a separate seasonal category.
You'll start to hear bits of this music in our playlist starting today. The amount gradually increases day to day until we get to the week of Christmas. If, however, that isn't enough seasonal organ music for you, then you can always visit our temporary station Organlive Christmas where we play only the Christmas and Advent portions of our library. Just like Organlive, it's free and easy to tune in. Just visit the website.
Here's wishing all of you a Merry Christmas and a Happy New Year! Thank you all for listening and supporting Organlive.
When will Christmas get here?
Nov. 21, 2016
Just like every year, we're getting questions from the impatient ones who want us to start our Christmas broadcast and to start including the hidden part of our library that only comes out this time of year. That usually happens sround December 1st. Then you'll begin hearing seasonal works in the regular Organlive broadcast. We start slow, but increase the amount as we get closer to the end of the month. Those tracks will be available to request then, as well. Keep watching here for more information!
And for those who can't get enough, there's always Christmas Organlive. We were initially afraid that we wouldn't be able to do it this year, but thanks to some wrangling with the new licensing laws, we got it to work.
Organlive Christmas
is now online! That's where we play only the Christmas and Advent portions of our library. Just like Organlive, it's free and easy to tune in. Just visit the website.
Organ Map updated
Jul. 15, 2016
As of today, there are recordings of 1364 organs in our online library, with more coming every week. Organlive doesn't just bring music to you, wherever you are in the world, but it brings you music from all over the world. Our Organ Map has always been a good way to browse where all of our recordings come from. As of today, we've made it a little quicker loading.
This new organ map groups clusters of organ markers together when there are many in a small area. This makes the map load more quickly, and makes it easier to zoom around to find organs you're looking for. In order to see the specific markers, just zoom in. When you see the red circles, you're looking at the location of a particular organ. Just click on it to see information about the location, and to find a list of albums recorded at that location!
Visit our organ map page to start finding your way to organs all over the globe. It's just another way Organlive helps bring music from around the world to you!
Rebroadcast of the Live Dedication Recital
Apr. 2, 2016
This past month we broadcast the dedication recital of Schoenstein's Opus 167 at Ladue Presbyterian Church in Ladue, Missouri. Scott Dettra was the recitalist. We're happy to announce that we'll be rebroadcasting the recording of this live concert three more times, so if you missed it, or just want to hear it again, you'll have multiple opportunities. The first will be Sunday, April 10 at 9:00am, then again at 2:00pm, and the last time on Monday, April 11 at 10:00am. All times are Central Daylight time (GMT -5), so take that into account for wherever in the world you are. The broadcast will include not only the music, but the interviews with the organbuilders, the church music director, and the organist. You won't want to miss it!
Information about the organ, organist, organ builder, the church, and the program can all be found here.
Happy Birthday Bach
Mar. 21, 2016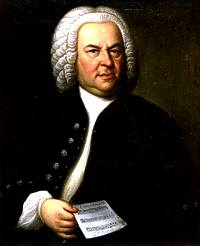 It's that time again! Monday March 21 marks the 331st birthday of one of our favorite composers, J.S. Bach. From now until we feel like ending it we'll be playing nothing but the organ music of Bach, 24 hours a day. Only Bach tracks will be available for request during this time.
Tune in today and join thousands of listeners from around the world in celebrating the birthday of this great master!