Requests are not really down
Nov. 30, 2018
We're currently experiencing some problems with our online request system. We're working to locate the problem and hope to have it back up as soon as possible. Certainly before the Christmas music starts!
UPDATE: It appears that requests are going through even if the message received says the request failed.

Nov. 5, 2018
This year we're jumping in early and heading off questions from the impatient ones who want us to start our Christmas broadcast and to start including the hidden part of our library that only comes out at the end of the year. On December 1st (or thereabouts) you'll begin hearing seasonal works in the regular Organlive broadcast. We start slow, but increase the amount as we get closer to the end of the month. Those tracks will be available to request then, as well. Keep watching here for more information!
But, for those who can't get enough, our pop-up station Christmas Organlive is back. That's where we play only the Christmas and Advent portions of our library. Just like Organlive, it's free and easy to tune in. Just visit the xmas.organlive.com.
Happy birthday to us!
Aug. 31, 2018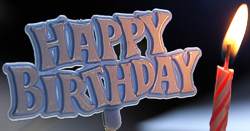 Can you believe it? Organlive is 15 years old! This station first started testing back in the summer of 2003 with an account on Live365 and handful of donated CDs and we went public on September 1 of that year. Today we're the best source of organ music on the net and we continue to grow! To celebrate the fact, this month, just like last September, every day we're going to steer Organlive's programming toward a particular composer, country, or region, period, kind of like how The Organ Experience works, although these will be 24 hour blocks. Here's what you can expect to hear this month:
1 American Organs
2 Johann Sebastian Bach
3 French Music
4 New organs
5 English Music
6 New releases
7 Organbuilders that start with B
8 French Classical
9 Edwin H. Lemare
10 Henry Purcell
11 Organs of Cavaille-Coll
12 Nordic organs and music
13 French Organs
14 English Romantic
15 Organs of E.M. Skinner
16 Organs of New York
17 Stuff we haven't played in a while
18 German Baroque
19 French Romantic
20 Organbuilders that start with H
21 APOBA organs
22 Everything French
23 Anthems and Hymns
24 German and Dutch organs
25 Music from Italy
26 Organbuilders that start with C
27 European Music
28 Organs of Canada
29 19th century music
30 Early organs
Anytime we can't make a category work, we'll fall back to our usual weekly schedule, and of course, you'll be welcome to request anything you want from our library. We'll post each day on our
Facebook page
, and our
Twitter feed
to update you with the theme of the day.
Thanks for listening to Organlive, and thank you to our sponsors and supporters that have kept us broadcasting for 15 years!
Website issues resolved
Jul. 24, 2018
You may have noticed some response time issues with our website in the past couple of weeks. We recently experienced some changes in our hosting that were out of our control. Some configuration changes caused a few unexpected problems. We believe all of those have been tracked down, and all of our websites are running much more quickly. Thanks for listening!
Station downtime
May. 21, 2018
Organlive, Positively Baroque, and the Organ Experience will all be offline for system maintenance and upgrades. This will begin at 10:00pm central time (03:00 UTC) and should only last for 15-20 minutes. Thanks for your patience, and thanks for listening.
We need your support
Apr. 3, 2018
The calendar says it is April, and that means we are nearing the end of our budget year. It's also the month of the year in which we try and raise our entire operating budget for the next 12 months. Every year during this month we take some time out to ask our listeners to consider how much Organlive, Positively Baroque, The Organ Experience and the other projects of the Organ Media Foundation mean to them. Compared to operating a terrestrial broadcast station, our expenses are very small, but the expenses are there. Our largest monthly expense covers the cost of our two servers used to send the music out to you and the bandwidth required to make sure there anyone who wishes to tune in can do so and receive a clear, signal. Currently we require more than 300 gigabytes per day, and that amount grows as we expand and new listeners find our stations.
We have already approached most of you, several of you have renewed your support, and even increased it over previous years. If you're in this group, then thank you for stepping forward. If you haven't yet, keep reading.
We see more than 22,000 different listeners tuning in from all over the world every month. Unfortunately, we know we can't expect help from all of them, but if even just a quarter of those listeners gave a single dollar, we would be done with fundraising. You don't have to give a lot, our contribution levels start at just $1. How much is a full year of free access to the music of the classical organ worth to you?
We have set up nine suggested sponsorship levels:
These are just suggestions, you may donate any amount you choose. All sponsors are recognized on our Donors Page. Perhaps this is the year you move up a level to help keep Organlive broadcasting?
If a one-time donation is a bit much for you right now, you can reach any level of sponsorship by making a monthly payment. PayPal can automatically send us a small amount each month. These monthly contribution amounts start at $1 and go up to $40.
All the contributions are made to the Organ Media Foundation, a 501(c)(3) non-profit organization which may make your contribution tax-deductible.
So how can you help?
To contribute, simply go to our Support page and select a level at which you would like to contribute. You will be taken to a PayPal page where you can check out securely and safely. You can also contribute to the Foundation by check or money order. The information to do that is also on that page.
Become a Supporter of Organlive!
And remember, the more we raise here, the less we have to interrupt our broadcast to ask for help, and the sooner we reach our goal, the sooner our broadcast returns to normal!
Click the button and help us keep the music of the organ alive!